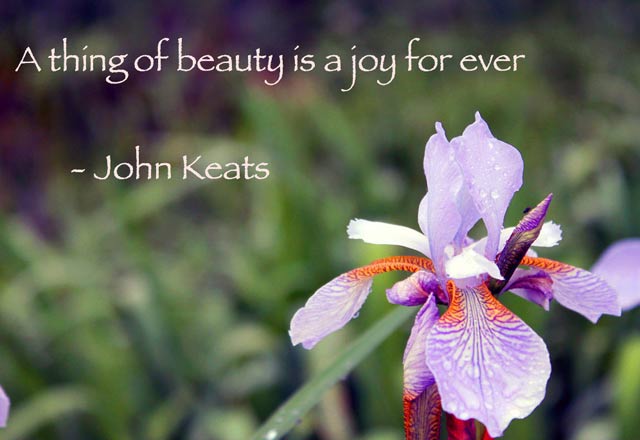 'T IS so much joy! 'T is so much joy!
If I should fail, what poverty!
And yet, as poor as I
Have ventured all upon a throw;
Have gained! Yes! Hesitated so
This side the victory!
Life is but life, and death but death!
Bliss is but bliss, and breath but breath!
And if, indeed, I fail,
At least to know the worst is sweet.
Defeat means nothing but defeat,
No drearier can prevail!
And if I gain,—oh, gun at sea,
Oh, bells that in the steeples be,
At first repeat it slow!
For heaven is a different thing
Conjectured, and waked sudden in,
And might o'erwhelm me so!
O to make the most jubilant song!
Full of music-full of manhood, womanhood, infancy!
Full of common employments-full of grain and trees.
O for the voices of animals-O for the swiftness and balance of fishes!
O for the dropping of raindrops in a song!
O for the sunshine and motion of waves in a song!
O the joy of my spirit-it is uncaged-it darts like lightning!
It is not enough to have this globe or a certain time,
I will have thousands of globes and all time.
O the engineer's joys! to go with a locomotive!
To hear the hiss of steam, the merry shriek, the steam-whistle, the
laughing locomotive!
To push with resistless way and speed off in the distance.
O the gleesome saunter over fields and hillsides!
The leaves and flowers of the commonest weeds, the moist fresh
stillness of the woods,
The exquisite smell of the earth at daybreak, and all through the
forenoon.
– Walt Whitman (extract from A Song of Joys)
---
"I have no name:
I am but two days old."
What shall I call thee?
"I happy am,
Joy is my name."
Sweet joy befall thee!
Pretty joy!
Sweet joy but two days old,
Sweet joy I call thee:
Thou dost smile,
I sing the while,
Sweet joy befall thee!
By: William Blake
---
Eternity
He who binds to himself a joy
Does the winged life destroy;
But he who kisses the joy as it flies
Lives in eternity's sun rise.
By: William Blake
---
A little joy have I of ceaseless joy,
A little day of timeless day.
Yet knows no bound this empty show of mine;
I march along a goalless way.
O Love! A desert within me ever pines.
Do turn it into a song of dawn.
I know not in what hour of evil night
Thou art, my Lord, from me withdrawn.
Life now must reach Thy Breath of Bliss supreme,
Make Thee the one and only Guide.
Thou art the Bridge between my death and birth;
O let my longings in Thee abide.
---
Let us live in joy, not hating those who hate us.
Among those who hate us, we live free of hate.
Let us live in joy,
free from disease among those who are diseased.
Among those who are diseased, let us live free of disease.
Let us live in joy, free from greed among the greedy.
Among those who are greedy, we live free of greed.
Let us live in joy, though we possess nothing.
Let us live feeding on joy, like the bright gods.
– The Buddha
---
Blank Joy
She who did not come, wasn't she determined
nonetheless to organize and decorate my heart?
If we had to exist to become the one we love,
what would the heart have to create?
Lovely joy left blank, perhaps you are
the center of all my labors and my loves.
If I've wept for you so much, it's because
I preferred you among so many outlined joys.
– Rainer Maria Rilke
---
Even joy itself becomes a poisonous draught;
Its hunger is made a dreadful hook of Fate.
All means are held good to catch a single beam,
Eternity sacrificed for a moment's bliss:
Yet for joy and not for sorrow earth was made
And not as a dream in endless suffering Time.
– Sri Aurobindo, Savitri, p.630
---
Even in this labour and dolour of Ignorance,
On the hard perilous ground of difficult earth,
In spite of death and evil circumstance
A will to live persists, a joy to be.
There is a joy in all that meets the sense,
A joy in all experience of the soul,
A joy in evil and a joy in good,
A joy in virtue and a joy in sin:
Indifferent to the threat of Karmic law,
Joy dares to grow upon forbidden soil,
Its sap runs through the plant and flowers of Pain:
It thrills with the drama of fate and tragic doom,
It tears its food from sorrow and ecstasy,
On danger and difficulty whets its strength;
It wallows with the reptile and the worm
And lifts its head, an equal of the stars;
It shares the faeries' dance, dines with the gnome:
It basks in the light and heat of many suns,
The sun of Beauty and the sun of Power.
– Sri Aurobindo, Savitri, p.630
---
Related