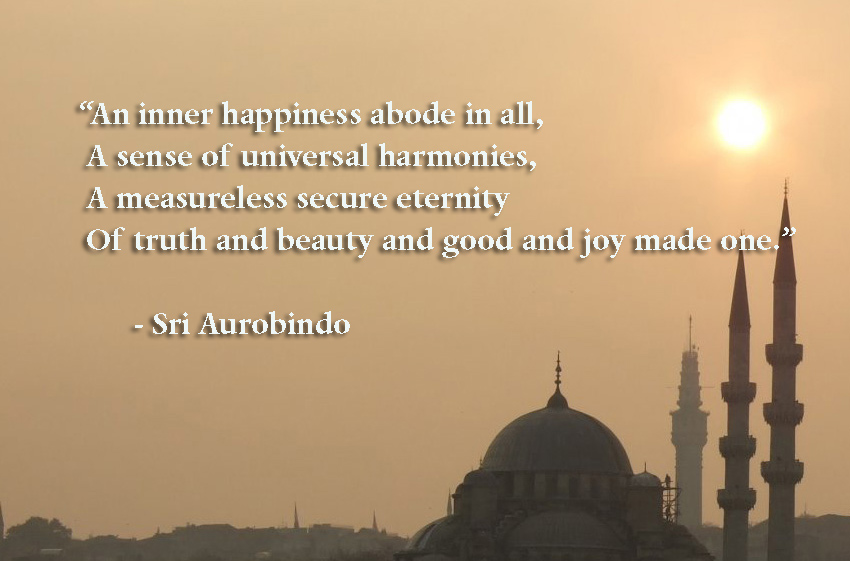 O the joy of that vast elemental sympathy which only the human
soul is capable of generating and emitting in steady and
limitless floods.
– Walt Whitman (extract – Song of Joys)
---
Tis so much joy! 'Tis so much joy!
If I should fail, what poverty!
And yet, as poor as I,
Have ventured all upon a throw!
Have gained! Yes! Hesitated so—
This side the Victory!
Life is but Life! And Death, but Death!
Bliss is, but Bliss, and Breath but Breath!
And if indeed I fail,
At least, to know the worst, is sweet!
Defeat means nothing but Defeat,
No drearier, can befall!
And if I gain! Oh Gun at Sea!
Oh Bells, that in the Steeples be!
At first, repeat it slow!
For Heaven is a different thing,
Conjectured, and waked sudden in—
And might extinguish me!
– Emily Dickinson
---
Do you want to be always happy?
Then give up fighting
For negativity
And learn the beautiful art
Of self-encouragement.
Sri Chinmoy
---
True inner joy is self – created.
It does not depend on outer circumstances.
A river is flowing in and through you carrying the message of joy.
This divine joy is the sole purpose of life.
– Sri Chinmoy
---
The mind chases happiness.
The heart creates happiness.
The soul is happiness
And it spreads happiness
All-where.
– Sri Chinmoy
---
I caught the happy virus last night
When I was out singing beneath the stars.
It is remarkably contagious –
So kiss me."
– Hafiz
---
A constant touch of sweetness linked all hearts,
The throb of one adoration's single bliss
In a rapt ether of undying love.
An inner happiness abode in all,
A sense of universal harmonies,
A measureless secure eternity
Of truth and beauty and good and joy made one.
– Sri Aurobindo Book II The Book of the Traveller of the Worlds Canto XIV The World-Soul
---
An incense floated in the quivering air,
A mystic happiness trembled in the breast
As if the invisible Beloved had come
Assuming the sudden loveliness of a face
And close glad hands could seize his fugitive feet
And the world change with the beauty of a smile.
– Sri Aurobindo Book II The Book of the Traveller of the Worlds Canto XIV The World-Soul
Carpe Diem
Age saw two quiet children
Go loving by at twilight,
He knew not whether homeward,
Or outward from the village,
Or (chimes were ringing) churchward,
He waited, (they were strangers)
Till they were out of hearing
To bid them both be happy.
'Be happy, happy, happy,
And seize the day of pleasure.'
The age-long theme is Age's.
'Twas Age imposed on poems
Their gather-roses burden
To warn against the danger
That overtaken lovers
From being overflooded
With happiness should have it.
And yet not know they have it.
But bid life seize the present?
It lives less in the present
Than in the future always,
And less in both together
Than in the past. The present
Is too much for the senses,
Too crowding, too confusing-
Too present to imagine.
Robert Frost
---
How still, how happy! Those are words
That once would scarce agree together;
I loved the plashing of the surge –
The changing heaven the breezy weather,
More than smooth seas and cloudless skies
And solemn, soothing, softened airs
That in the forest woke no sighs
And from the green spray shook no tears.
How still, how happy! now I feel
Where silence dwells is sweeter far
Than laughing mirth's most joyous swell
However pure its raptures are.
Come, sit down on this sunny stone:
'Tis wintry light o'er flowerless moors –
But sit – for we are all alone
And clear expand heaven's breathless shores.
I could think in the withered grass
Spring's budding wreaths we might discern;
The violet's eye might shyly flash
And young leaves shoot among the fern.
It is but thought – full many a night
The snow shall clothe those hills afar
And storms shall add a drearier blight
And winds shall wage a wilder war,
Before the lark may herald in
Fresh foliage twined with blossoms fair
And summer days again begin
Their glory – haloed crown to wear.
Yet my heart loves December's smile
As much as July's golden beam;
Then let us sit and watch the while
The blue ice curdling on the stream –
How Still, How Happy!
– Emily Brontë
Related Poems