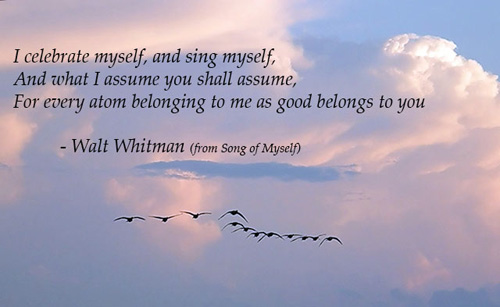 Song of Myself
I celebrate myself, and sing myself,
And what I assume you shall assume,
For every atom belonging to me as good belongs to you.
I loaf and invite my soul,
I lean and loaf at my ease observing a spear of summer grass.
My tongue, every atom of my blood, formed from this soil, this air,
Born here of parents born here from parents the same, and their parents the same,
I, now thirty-seven years old in perfect health begin,
Hoping to cease not till death.
Creeds and schools in abeyance,
Retiring back awhile sufficed at what they are, but never forgotten,
I harbor for good or bad, I permit to speak at every hazard,
Nature without check with original energy.
I'm Nobody
I'm nobody! Who are you?
Are you nobody, too?
Then there's a pair of us – don't tell!
They'd advertise – you know!
How dreary to be somebody!
How public like a frog
To tell one's name the livelong day
To an admiring bog!
By: Emily Dickinson
I am He!
Mind, nor intellect, nor ego, feeling;
Sky nor earth nor metals am I.
I am He, I am He, Blessed spirit, I am He!
No birth, no death, no caste have I;
Father, mother, have I none.
I am He, I am He, Blessed spirit, I am He!
Beyond the flights of fancy, formless am I,
Permeating the limbs of all life;
Bondage I do not fear; I am free, ever free.
I am He, I am He, Blessed spirit, I am He!
By: Shankaracharya
Revelation
No more my heart shall sob or grieve.
My days and nights dissolve in God's own Light.
Above the toil of life my soul
Is a Bird of Fire winging the Infinite.
I have known the One and His secret Play,
And passed beyond the sea of Ignorance Dream.
In tune with Him, I sport and sing;
I own the golden Eye of the Supreme.
Drunk deep of Immortality,
I am the root and boughs of a teeming vast.
My Form I have known and realised.
The Supreme and I are one; all we outlast.
From 'My Flute' by Sri Chinmoy.
Bliss of Identity
All Nature is taught in radiant ways to move,
All beings are in myself embraced.
O fiery boundless Heart of joy and love,
How art thou beating in a mortal's breast !
It is Thy rapture flaming through my nerves
And all my cells and atoms thrill with Thee ;
My body thy vessel is and only serves
As a living wine-cup of Thy ecstasy.
I am a centre of Thy golden light
And I its vast and vague circumference,
Thou art my soul great, luminous and white
And Thine my mind and will and glowing sense.
Thy spirit's infinite breath I feel in me;
My life is a throb of Thy eternity.