Short Poems for Funerals
The death of a loved one is often one of the most painful experiences we go through. When someone dies we often feel at a loss to express our emotions and heart felt feelings. At the same time death often brings our deep-seated fear of death to the fore.
More than any other medium, poetry seems the perfect expression of both our own sentiments and a fitting tribute to those who we have lost. Also the profound sentiments of the great Seer Poets can be of comfort and reassurance that death is not the extinction of life.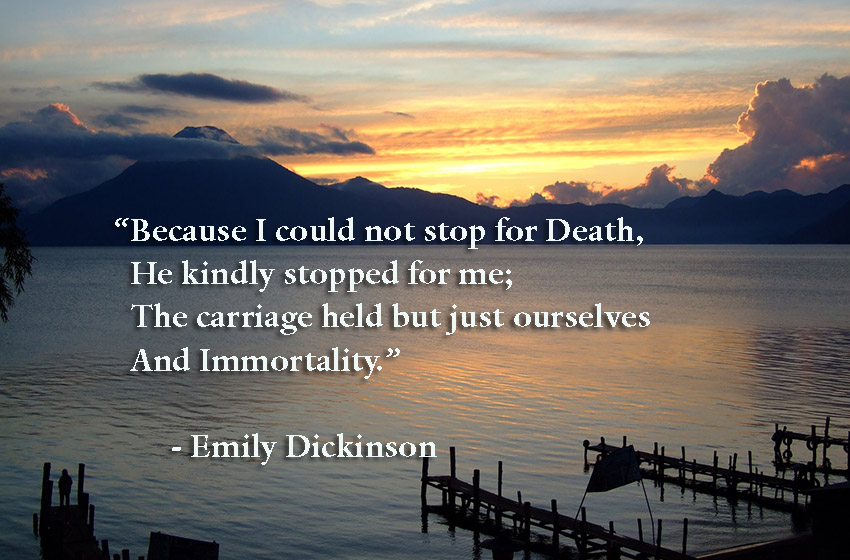 Poems In Celebration
In grief at the death of those who are close we should not forget the positive qualities of those who are no longer in the world. On a person's death we instinctively remember their good qualities and contributions. To remember the good in others is the strongest counter point to grief. This poem helps us to remember the real essence of a person.
Not how did he die, but how did he live.
Not what did he gain, but what did he give
These are the units to measure the worth
Of a man as a man, regardless of birth.
– anon
There is no necessity for funerals to be just solemn occasions devoid of smiling and laughter. Humour is an essential part of life, so why not of death.
Langston Hughes remarks:
As Befits a Man
I don't mind dying
But I want my funeral to be fine:
A row of long tall mammas
Fainting, Fanning and crying
– Langston Hughes
Death is Not the End
To many Death creates uncertainty and fear. It seems we shall never meet again. But the poets remind us of the essential truths of life, death and immortality.
"And death shall have no dominion…
Though lovers be lost love shall not."
Dylan Thomas.
Song
When I am dead, my dearest,
Sing no sad songs for me;
Plant thou no roses at my head,
Nor shady cypress tree:
Be the green grass above me
With showers and dewdrops wet;
And if thou wilt, remember,
And if thou wilt, forget.

I shall not see the shadows,
I shall not feel the rain;
I shall not hear the nightingale
Sing on, as if in pain;
And dreaming through the twilight
That doth not rise nor set,
Haply I may remember,
And haply may forget.
by: Christina Rossetti
Turn again to Life
If death is a chapter in a book, like moving from one room to the next. There is no reason for the passing of a loved one to result in endless pain and grief. Poets inspire us to look on the bright side of life.
Turn again to Life
by Mary Lee Hall.
If I should die and leave you here a while,
Be not like others, sore undone who keep
Long vigils by the silent dust, and weep
– Mary Lee Hall.
Other Quotes on Death
"Everything you see has its roots in the unseen world.
The forms may change, yet the essence remains the same."
Extract, 'Everything you see'
By: Rumi
"The existence of ours is as transient as autumn clouds".
– Buddha
"Death says that it is immortal. Man's achievements say, "Death, you are right. But the truth of the matter is that we shine perpetually upon your very breast. Not only that, we shine forever in you, through you and beyond you."
– Sri Chinmoy
"Death is natural. Nothing natural can be detrimental. Death is rest. Rest is strength in disguise for a further adventure. "

" At the present state of human evolution, to conquer Death may be an impossibility. But to overcome the fear of death is not only practicability, but inevitability."
Related
photo: Unmesh, Sri Chinmoy Centre Galleries