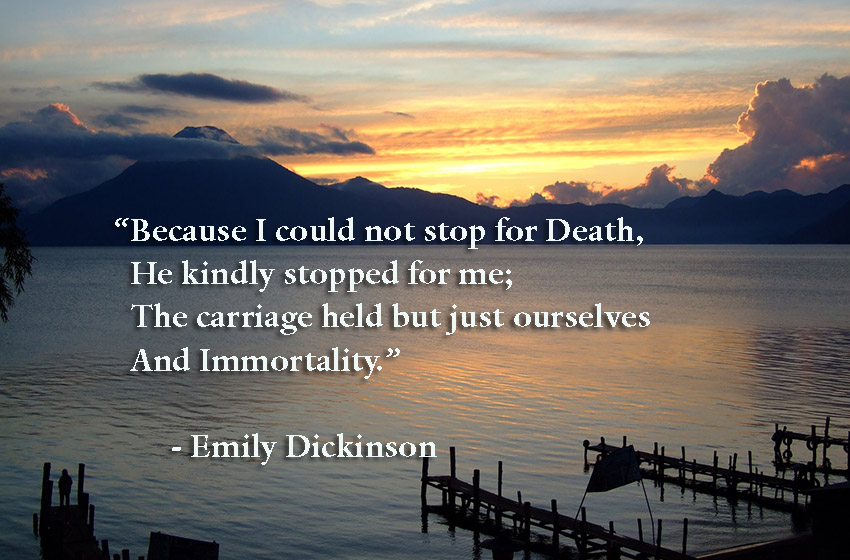 ---
A thing of beauty is a joy for ever:
Its loveliness increases; it will never
Pass into nothingness; but still will keep
A bower quiet for us, and a sleep
Full of sweet dreams, and health, and quiet breathing.
– John Keats (1)
---
Because I could not stop for Death,
He kindly stopped for me;
The carriage held but just ourselves
And Immortality.
– Emily Dickinson (extract, The Chariot)
---
If I should die,
And you should live,
And time should gurgle on,
And morn should beam,
And noon should burn,
As it has usual done;
If birds should build as early,
And bees as bustling go,–
One might depart at option
From enterprise below!
'Tis sweet to know that stocks will stand
When we with daisies lie,
That commerce will continue,
And trades as briskly fly.
It make the parting tranquil
And keeps the soul serene,
That gentlemen so sprightly
Conduct the pleasing scene!
– Emily Dickinson
---
How wonderful is Death,
Death, and his brother Sleep!
One, pale as yonder waning moon
With lips of lurid blue;
The other, rosy as the morn
When throned on ocean's wave
It blushes o'er the world;
Yet both so passing wonderful!
– Percy Bysshe Shelley, from Queen Mab.
---
Although Death walks beside us on Life's road,
A dim bystander at the body's start
And a last judgment on man's futile works,
Other is the riddle of its ambiguous face:
Death is a stair, a door, a stumbling stride
The soul must take to cross from birth to birth,
A grey defeat pregnant with victory,
– Sri Aurobindo, Savitri (3)
---
At last she spoke; her voice was heard by Night:
"I bow not to thee, O huge mask of death,
Black lie of night to the cowed soul of man,
Unreal, inescapable end of things,
Thou grim jest played with the immortal spirit.
Conscious of immortality I walk.
– Sri Aurobindo, Savitri (4)
---
I know I will love death.
Why?
Because death too
Is God's creation
And because death reminds me
Of the existence of her sister:
Infinity's Life immortal.
– Sri Chinmoy (7)
---
Whatever dies really does not die.
We see it not;
Therefore
We feel that it has died.
Death is only another shore
Of the Reality-sea.
Death is only another way
To God-Reality's Shore.
– Sri Chinmoy (7)
---
Death is not the end. Death can never be the end.
Death is the road. Life is the traveller. The soul is the guide.
– Sri Chinmoy (5)
---
Before us great Death stands
Our fate held close within his quiet hands.
When with proud joy we lift Life's red wine
To drink deep of the mystic shining cup
And ecstasy through all our being leaps—
Death bows his head and weeps.
– Rainer Maria Rilke
---
Let us return Home, let us go back,
Useless is this reckoning of seeking and getting,
Delight permeates all of today.
From the blue ocean of death
Life is flowing like nectar.
In life there is death; in death there is life.
So where is fear, where is fear?
The birds in the sky are singing "No death, no death!"
Day and night the tide of Immortality
Is descending here on earth.
– Phire Chalo (6)
---
A telling analogy for life and death:
Compare the two of them to water and ice.
Water draws together to become ice,
And ice disperses again to become water.
Whatever has died is sure to be born again;
Whatever is born comes around again to dying.
As ice and water do one another no harm,
So life and death, the two of them, are fine.
~ Han Shan
---
On the death of Anne Bronte
There's little joy in life for me,
And little terror in the grave;
I've lived the parting hour to see
Of one I would have died to save.
Calmly to watch the failing breath,
Wishing each sigh might be the last;
Longing to see the shade of death
O'er those belovèd features cast.
The cloud, the stillness that must part
The darling of my life from me;
And then to thank God from my heart,
To thank Him well and fervently;
Although I knew that we had lost
The hope and glory of our life;
And now, benighted, tempest-tossed,
Must bear alone the weary strife.
– Charlotte Brontë, "On the Death of Anne Brontë"
---
Death be not proud, though some have called thee
Mighty and dreadful, for, thou art not so,
For, those, whom thou think'st, thou dost overthrow,
Die not, poor death, nor yet canst thou kill me.
From rest and sleepe, which but thy pictures bee,
Much pleasure, then from thee, much more must flow,
And soonest our best men with thee doe goe,
Rest of their bones, and soules deliverie.
Thou art slave to Fate, Chance, kings, and desperate men,
And dost with poyson, warre, and sicknesse dwell,
And poppie, or charmes can make us sleepe as well,
And better then thy stroake; why swell'st thou then?
One short sleepe past, wee wake eternally,
And death shall be no more; death, thou shalt die.
– John Donne (2)
---
Were you but lying cold and dead,
And lights were paling out of the West,
You would come hither, and bend your head,
And I would lay my head on your breast;
And you would murmur tender words,
Forgiving me, because you were dead:
Nor would you rise and hasten away,
Though you have the will of wild birds,
But know your hair was bound and wound
About the stars and moon and sun:
O would, beloved, that you lay
Under the dock-leaves in the ground,
While lights were paling one by one.
– W.B. Yeats
---
That time of year thou mayst in me behold
When yellow leaves, or none, or few, do hang
Upon those boughs which shake against the cold,
Bare ruin'd choirs, where late the sweet birds sang.
In me thou seest the twilight of such day
As after sunset fadeth in the west,
Which by and by black night doth take away,
Death's second self, that seals up all in rest.
In me thou see'st the glowing of such fire
That on the ashes of his youth doth lie,
As the death-bed whereon it must expire
Consumed with that which it was nourish'd by.
This thou perceivest, which makes thy love more strong,
To love that well which thou must leave ere long.
– William Shakespeare
---
Death is a dialogue between
The spirit and the dust.
"Dissolve," says Death. The Spirit, "Sir,
I have another trust."
Death doubts it, argues from the ground.
The Spirit turns away,
Just laying off, for evidence,
An overcoat of clay.
– Emily Dickinson
---
Do not stand at my grave and weep,
I am not there, I do not sleep.
I am a thousand winds that blow.
I am the diamond glint on snow.
I am the sunlight on ripened grain.
I am the gentle autumn rain.
When you wake in the morning hush,
I am the swift, uplifting rush
Of quiet birds in circling flight.
I am the soft starlight at night.
Do not stand at my grave and weep.
I am not there, I do not sleep.
Do not stand at my grave and cry.
I am not there, I did not die!
– Anon
---
"Cowards die many times before their deaths;
The valiant never taste of death but once.
Of all the wonders that I yet have heard,
It seems to me most strange that men should fear;
Seeing that death, a necessary end,
Will come when it will come."
― William Shakespeare, Julius Caesar
Other poems on death
Footnotes
(1) A Thing of Beauty (Endymion) Excerpt
(3) Book X The Book of the Double Twilight
Canto I The Dream Twilight of the Ideal – Savitri by Sri Aurobindo
(4) Book IX The Book of Eternal Night
Canto II The Journey in Eternal Night and the Voice of the Darkness – Savitri by Sri Aurobindo
(5) Excerpts from My Rose Petals, Part 1 by Sri Chinmoy
(6) Traditional Indian (1)
(7) Excerpt from Transcendence-Perfection by Sri Chinmoy
(8) Excerpt from God's Hour by Sri Chinmoy