William Shakespeare (1564-1616). English poet and playwright –  Shakespeare is widely considered to be  the greatest writer in the English language. He wrote 38 plays and 154 sonnets. Shakespeare's poems consider themes of love, beauty, death, decay and the inevitable passing of time.
---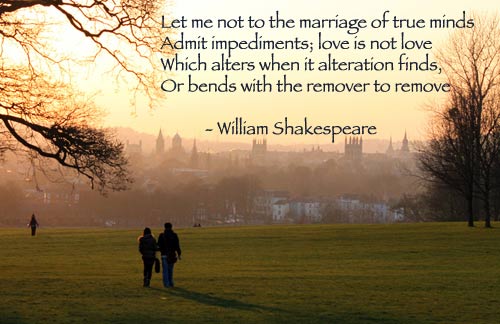 Let me not to the marriage of true minds
Let me not to the marriage of true minds
Admit impediments; love is not love
Which alters when it alteration finds,
Or bends with the remover to remove:
O, no, it is an ever-fixèd mark,
That looks on tempests and is never shaken;
It is the star to every wand'ring bark,
Whose worth's unknown, although his heighth be taken.
Love's not Time's fool, though rosy lips and cheeks
Within his bending sickle's compass come;
Love alters not with his brief hours and weeks,
But bears it out even to the edge of doom.
If this be error and upon me proved,
I never writ, nor no man ever loved.
Sonnet 116
William Shakespeare
---
Love Sonnet 18
Shall I compare thee to a summer's day?
Thou art more lovely and more temperate:
Rough winds do shake the darling buds of May,
And summer's lease hath all too short a date:
Sometime too hot the eye of heaven shines,
And often is his gold complexion dimm'd;
And every fair from fair sometime declines,
By chance or nature's changing course untrimm'd;
But thy eternal summer shall not fade
Nor lose possession of that fair thou owest;
Nor shall Death brag thou wander'st in his shade,
When in eternal lines to time thou growest:
So long as men can breathe or eyes can see,
So long lives this and this gives life to thee.
– William Shakespeare
---
Love Sonnet 29
When, in disgrace with fortune and men's eyes,
I all alone beweep my outcast state
And trouble deaf heaven with my bootless cries
And look upon myself and curse my fate,
Wishing me like to one more rich in hope,
Featur'd like him, like him with friends possess'd,
Desiring this man's art and that man's scope,
With what I most enjoy contented least;
Yet in these thoughts myself almost despising,
Haply I think on thee, and then my state,
Like to the lark at break of day arising
From sullen earth, sings hymns at heaven's gate;
For thy sweet love remember'd such wealth brings
That then I scorn to change my state with kings.
– William Shakespeare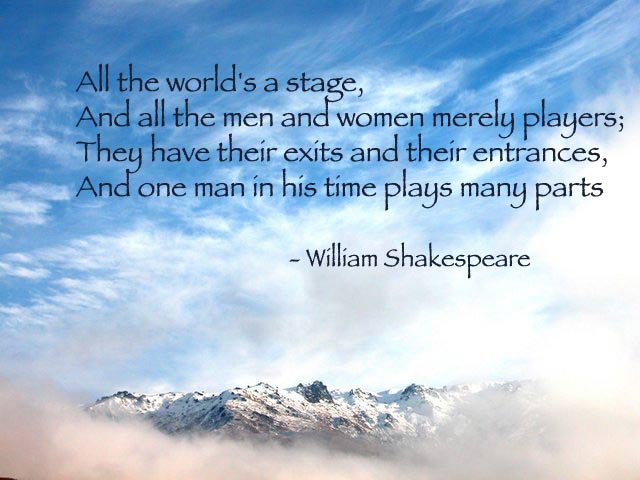 All the World's a Stage
All the world's a stage,
And all the men and women merely players;
They have their exits and their entrances,
And one man in his time plays many parts,
His acts being seven ages. At first, the infant,
Mewling and puking in the nurse's arms.
Then the whining schoolboy, with his satchel
And shining morning face, creeping like snail
Unwillingly to school. And then the lover,
Sighing like furnace, with a woeful ballad
Made to his mistress' eyebrow. Then a soldier,
Full of strange oaths and bearded like the pard,
Jealous in honor, sudden and quick in quarrel,
Seeking the bubble reputation
Even in the cannon's mouth. And then the justice,
In fair round belly with good capon lined,
With eyes severe and beard of formal cut,
Full of wise saws and modern instances;
And so he plays his part. The sixth age shifts
Into the lean and slippered pantaloon,
With spectacles on nose and pouch on side;
His youthful hose, well saved, a world too wide
For his shrunk shank, and his big manly voice,
Turning again toward childish treble, pipes
And whistles in his sound. Last scene of all,
That ends this strange eventful history,
Is second childishness and mere oblivion,
Sans teeth, sans eyes, sans taste, sans everything.
– William Shakespeare
---
O never say that I was false of heart
O, never say that I was false of heart,
Though absence seemed my flame to qualify.
As easy might I from my self depart
As from my soul which in thy breast doth lie.
That is my home of love; if I have ranged,
Like him that travels I return again,
Just to the time, not with the time exchanged,
So that myself bring water for my stain.
Never believe though in my nature reigned
All frailties that besiege all kinds of blood,
That it could so preposterously be stained
To leave for nothing all thy sum of good;
For nothing this wide universe I call
Save thou, my rose, in it thou art my all
Sonnet 109
by William Shakespeare
---
Take, Oh Take Those Lips Away
TAKE, O take those lips away
That so sweetly were forsworn,
And those eyes, the break of day,
Lights that do mislead the morn:
But my kisses bring again,
Bring again—
Seals of love, but seal'd in vain,
Seal'd in vain!
– William Shakespeare
---
Love Sonnet 1
From fairest creatures we desire increase,
That thereby beauty's rose might never die,
But as the riper should by time decease,
His tender heir might bear his memory:
But thou contracted to thine own bright eyes,
Feed'st thy light's flame with self-substantial fuel,
Making a famine where abundance lies,
Thy self thy foe, to thy sweet self too cruel:
Thou that art now the world's fresh ornament,
And only herald to the gaudy spring,
Within thine own bud buriest thy content,
And, tender churl, mak'st waste in niggarding:
Pity the world, or else this glutton be,
To eat the world's due, by the grave and thee.
– William Shakespeare
Related