Short poems hope by Sri Chinmoy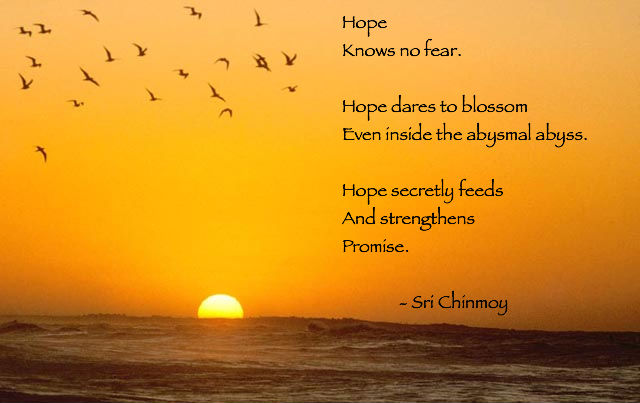 Hope
Knows no fear.

Hope dares to blossom
Even inside the abysmal abyss.

Hope secretly feeds
And strengthens
Promise.
---
Hope passes beyond,
Far beyond
The abyss of despair.
– Sri Chinmoy (2)
---
Let us not underestimate the power of hope.
No matter how fleeting its life,
It offers to us the most convincing
And fulfilling power.
– Sri Chinmoy (4)
---
Yesterday's failures
Must be forgotten.
Tomorrow's new hope
And new fulfilment
Must be cherished.
Sri Chinmoy (5)
---
Hope is not a momentary flicker.
Hope is Eternity's slow, steady,
Illumining and fulfilling height.
Sri Chinmoy (6)
---
Hope is sweet.
Hope is illumining.
Hope is fulfilling.
Hope can be everlasting.
Therefore, do not give up hope
Even in the sunset of your life.
Sri Chinmoy (7)
~
Poems on Hope Quoted at 9/11 Memorial 2010
The Governor of New York, David Paterson, quotes the first three poems on hope during the 9/11 memorial service 2010
Related
References
(1) From: My Christmas-New Year Vacation-Aspiration Prayers (Part 26) by Sri Chinmoy
(2) Seventy-Seven Thousand Service-Trees vol 45
(4) From: The Jewels of Happiness by Sri Chinmoy
(5) Excerpt from Twenty-Seven Thousand Aspiration-Plants, Part 173 by Sri Chinmoy
(6) Excerpt from Ten Thousand Flower-Flames, Part 99 by Sri Chinmoy
(7) Excerpt from Twenty-Seven Thousand Aspiration-Plants, Part 112 by Sri Chinmoy