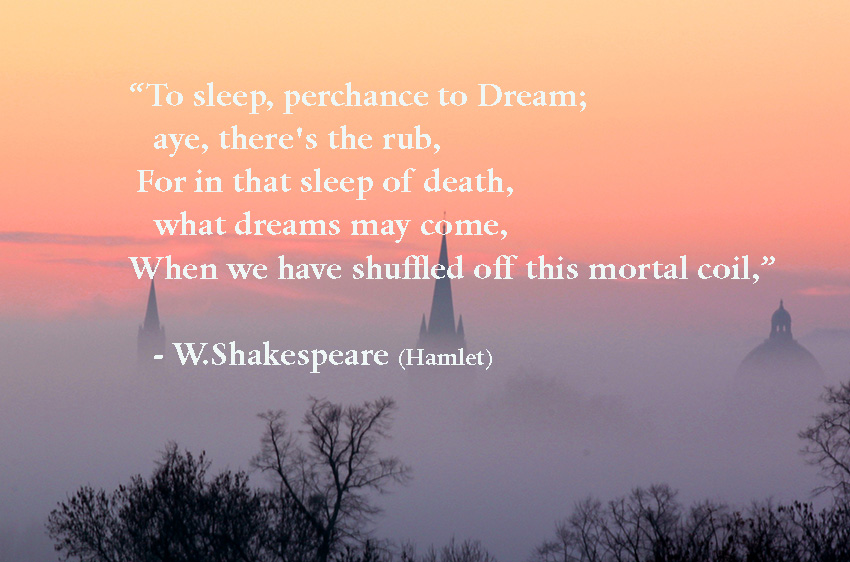 To be, or not to be: that is the question:
Whether 'tis nobler in the mind to suffer
The slings and arrows of outrageous fortune,
Or to take arms against a sea of troubles,
And by opposing end them? To die: to sleep;
No more; and by a sleep to say we end
The heart-ache and the thousand natural shocks
That flesh is heir to, 'tis a consummation
Devoutly to be wish'd. To die, to sleep;
To sleep: perchance to dream: ay, there's the rub;
For in that sleep of death what dreams may come
When we have shuffled off this mortal coil,
Must give us pause: there's the respect
That makes calamity of so long life;
– William Shakespeare (extract, Hamlet (III, I, 65-68)
---
Hold fast to dreams
For if dreams die
Life is a broken-winged bird
That cannot fly.

Hold fast to dreams
For when dreams go
Life is a barren field
Frozen with snow.
Dreams by Langston Hughes
---
Once in the dream of a night I stood
Lone in the light of a magical wood,
Soul-deep in visions that poppy-like sprang;
And spirits of Truth were the birds that sang,
And spirits of Love were the stars that glowed,
And spirits of Peace were the streams that flowed
In that magical wood in the land of sleep.
– Sarojini Naidu, Excerpt from: Song of a Dream
---
I dream'd in a dream
I saw a city invincible to the attacks of the
whole of the rest of the earth,
I dream'd that was the new city of Friends,
Nothing was greater there
than the quality of robust love, it led the rest,
It was seen every hour in the actions of the men of that city,
And in all their looks and words.
by: Walt Whitman
---
A Dream
Once a dream did weave a shade
O'er my Angel-guarded bed,
That an Emmet lost its way
Where on grass methought I lay.

Troubled, 'wilder'd, and forlorn,
Dark, benighted, travel-worn,
Over many a tangled spray,
All heart-broken I heard her say:

"O, my children! do they cry?
Do they hear their father sigh?
Now they look abroad to see:
Now return and weep for me."

Pitying, I drop'd a tear;
But I saw a glow-worm near,
Who replied: "What wailing wight
Calls the watchman of the night?

"I am set to light the ground,
While the beetle goes his round:
Follow now the beetle's hum;
Little wanderer, hie thee home."
---
My mind wants to interpret
All my dreams.

My heart wants to love
All my dreams.

My soul wants to fulfil
All my dreams
– Sri Chinmoy
---
All people dream, but not equally.
Those who dream by night in the dusty recesses of their mind,
Wake in the morning to find that it was vanity.

But the dreamers of the day are dangerous people,
For they dream their dreams with open eyes,
And make them come true.
– T. E. Lawrence
---
One day you will look back and laugh at yourself.
You'll say, ' I can't believe I was so asleep!
How did I ever forget the truth?
How ridiculous to believe that sadness and sickness
Are anything other than bad dreams.'
Related
Photo Top – Tejvan