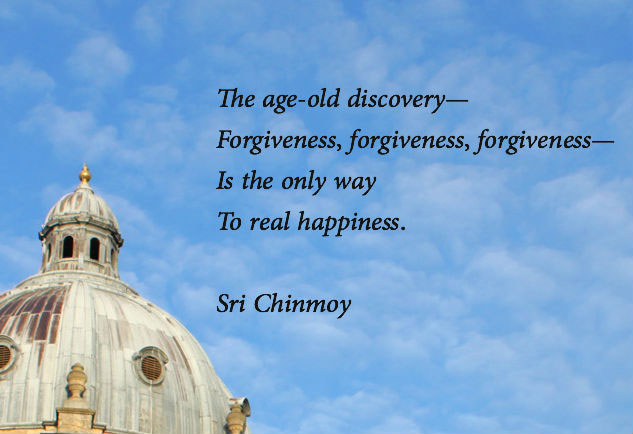 The age-old discovery—
Forgiveness, forgiveness, forgiveness—
Is the only way
To real happiness.
– Sri Chinmoy
---
Now bury with the dead years conflicts dead
And with fresh days let all begin anew.
Why longer amid shrivelled leaf-drifts tread,
When buds are swelling, flower-sheaths peeping through?
Seen through the vista of the vanished years,
How trivial seem the struggle and the crown,
How vain past feuds, when reconciling tears
Course down the channel worn by vanished frown.
How few mean half the bitterness they speak!
Words more than feelings keep us still apart,
And, in the heat of passion or of pique,
The tongue is far more cruel than the heart.
Since love alone makes it worth while to live,
Let all be now forgiven, and forgive.
– Alfred Austin
---
Forgiveness
Means transformation
Of a human heart
Into a divine life.
Sri Chinmoy
---
Forgiveness
Is the mightiest sword
Forgiveness of those you fear
Is the highest reward
When they bruise you with words
When they make you feel small
When it's hardest to take
You must do nothing at all…
– Jane Eyre.
---
"Parable of Faith"
Now, in twilight, on the palace steps
the king asks forgiveness of his lady.
He is not
duplicitous; he has tried to be
true to the moment; is there another way of being
true to the self?
The lady
hides her face, somewhat
assisted by shadows. She weeps
for her past; when one has a secret life,
one's tears are never explained.
Yet gladly would the king bear
the grief of his lady: his
is the generous heart,
in pain as in joy.
Do you know
what forgiveness means? It means
the whole world has sinned, the world
must be pardoned—
– Louise Glück
---
If I cannot forgive myself
For all the blunders
That I have made
Over the years,
Then how can I proceed?
How can I ever
Dream perfection-dreams?
Move, I must, forward.
Fly, I must, upward.
Dive, I must, inward,
To be once more
What I truly am
And shall forever remain.
---
Quotes on forgiveness
"Father, forgive them;
for they know not what they do. "
Luke 23
---
Forgiveness is the answer to the child's dream of a miracle by which what is broken is made whole again, what is soiled is made clean again.
— Dag Hammarskjold.
---
The weak can never forgive. Forgiveness is the attribute of the strong.
– Mahatma Gandhi
---
"We must develop and maintain the capacity to forgive. He who is devoid of the power to forgive is devoid of the power to love."
Martin Luther King, Jr.
---
"Always forgive your enemies; nothing annoys them so much."
Oscar Wilde
---
 If we really want to love
we must learn how to forgive
– Mother Teresa
Related