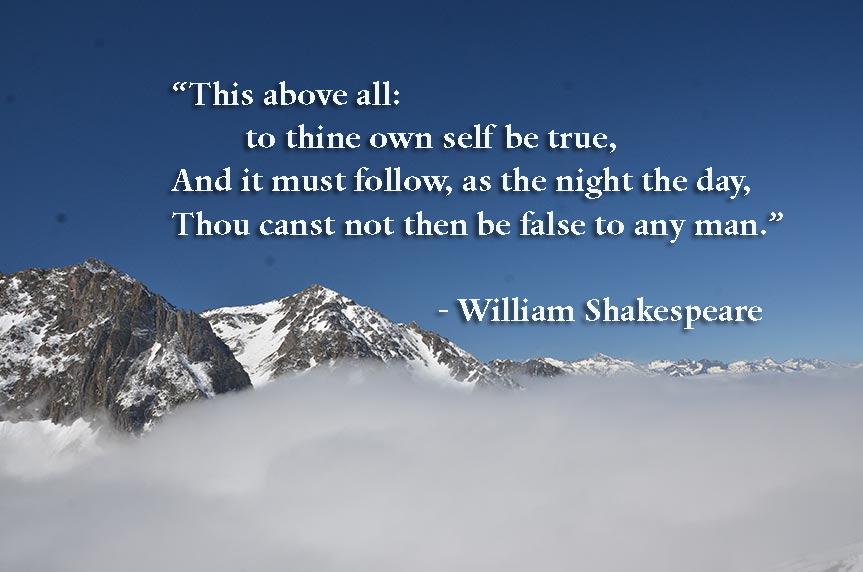 "This above all: to thine own self be true,
And it must follow, as the night the day,
Thou canst not then be false to any man."
― William Shakespeare, Hamlet
---
Tell The Truth
Tell all the Truth but tell it slant –
Success in Circuit lies
Too bright for our infirm Delight
The Truth's superb surprise
As Lightning to the Children eased
With explanation kind
The Truth must dazzle gradually
Or every man be blind –
---
I died for beauty
I died for beauty, but was scarce
Adjusted in the tomb,
When one who died for truth was lain
In an adjoining room.
He questioned softly why I failed?
"For beauty," I replied.
"And I for truth – the two are one;
We brethren are," he said.
And so, as kinsmen met a-night,
We talked between the rooms,
Until the moss had reached our lips,
And covered up our names.
---
The Truth—is Stirless
Other force—may be presumed to move—
This—then—is best for confidence—
When oldest Cedars swerve—
And Oaks untwist their fists—
And Mountains—feeble—lean—
How excellent a Body, that
Stands without a Bone—
How vigorous a Force
That holds without a Prop—
Truth stays Herself—and every man
That trusts Her—boldly up—
– Emily Dickinson
---
The Face of Truth
The Face of Truth is covered
with a brilliant golden orb.
Remove it, O Sun,
so that I who am devoted to the Truth
may behold the Truth.
– Upanishads
---
My name is Truth
My head knocks against the stars.
My feet are on the hilltops.
My finger-tips are in the valleys and shores of
universal life.
Down in the sounding foam of primal things I
reach my hands and play with pebbles of
destiny.
I have been to hell and back many times.
I know all about heaven, for I have talked with God.
I dabble in the blood and guts of the terrible.
I know the passionate seizure of beauty
And the marvelous rebellion of man at all signs
reading "Keep Off."
My name is Truth and I am the most elusive captive
in the universe.
Who Am I?
Carl Sandburg
---
All is Truth
O me, man of slack faith so long,
Standing aloof, denying portions so long,
Only aware to-day of compact all-diffused truth,
Discovering to-day there is no lie or form of lie, and can be none,
but grows as inevitably upon itself as the truth does upon itself,
Or as any law of the earth or any natural production of the earth does.
(This is curious and may not be realized immediately, but it must be
realized,
I feel in myself that I represent falsehoods equally with the rest,
And that the universe does.)
Where has fail'd a perfect return indifferent of lies or the truth?
Is it upon the ground, or in water or fire? or in the spirit of man?
or in the meat and blood?
Meditating among liars and retreating sternly into myself, I see
that there are really no liars or lies after all,
And that nothing fails its perfect return, and that what are called
lies are perfect returns,
And that each thing exactly represents itself and what has preceded it,
And that the truth includes all, and is compact just as much as
space is compact,
And that there is no flaw or vacuum in the amount of the truth–but
that all is truth without exception;
And henceforth I will go celebrate any thing I see or am,
And sing and laugh and deny nothing.
One truth to learn:
Ignorance is naught.
One truth to follow:
The path of Grace.
One truth to live:
Forget Him not.
One truth to be:
His Heart and Face.
– Sri Chinmoy
---
Truth never descends.
Truth never compromises.
Truth is satisfied only when
It sees everything and everyone
At its own Himalayan height.
– Sri Chinmoy
---
O fool, do something, so you won't just stand there looking dumb.
If you are not traveling and on the road, how can you call yourself a guide?
In the School of Truth, one sits at the feet of the Master of Love.
So listen, son, so that one day you may be an old father, too!
All this eating and sleeping has made you ignorant and fat;
By denying yourself food and sleep, you may still have a chance.
Know this: If God should shine His lovelight on your heart,
I promise you'll shine brighter than a dozen suns.
And I say: wash the tarnished copper of your life from your hands;
To be Love's alchemist, you should be working with gold.
Don't sit there thinking; go out and immerse yourself in God's sea.
Having only one hair wet with water will not put knowledge in that head.
For those who see only God, their vision
Is pure, and not a doubt remains.
Even if our world is turned upside down and blown over by the wind,
If you are doubtless, you won't lose a thing.
O Hafiz, if it is union with the Beloved that you seek,
Be the dust at the Wise One's door, and speak!
Related