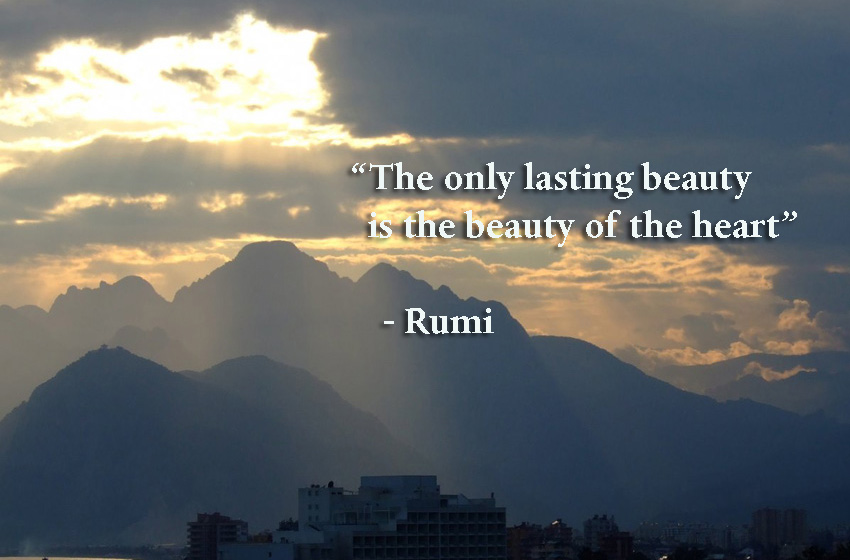 "The heart is a
The thousand-stringed instrument
That can only be tuned with
Love."
– Hafiz
---
The only lasting beauty
is the beauty of the heart.
– Rumi
---
Never seek to tell thy love,
Love that never told can be;
For the gentle wind does move
Silently, invisibly.
I told my love, I told my love,
I told her all my heart;
Trembling, cold, in ghastly fears,
Ah! she did depart!
Soon as she was gone from me,
A traveler came by,
Silently, invisibly
He took her with a sigh.
– William Blake
---
If I can stop one heart from breaking,
I shall not live in vain;
If I can ease one life the aching,
Or cool one pain,
Or help one fainting robin
Unto his nest again,
I shall not live in vain.
Emily Dickinson
---
O my heart, O heart of mine,
You are my life-boat.
You sail the uncharted seas of ignorance
And reach the golden shore of the Beyond.
– Sri Chinmoy
---
As long as your heart remains
An ever-mounting aspiration-flame,
It makes no difference
What your weaknesses are.
Sri Chinmoy
---
Go sweep out the chamber of your heart.
Make it ready to be the dwelling place of the Beloved.
When you depart out,
He will enter it.
In you,
void of yourself,
will He display His beauties.
– Shabistari
---
"O my heart! the Supreme Spirit, the great Master, is near you: wake, oh wake!
Run to the feet of your Beloved: for your Lord stands near to your head.
You have slept for unnumbered ages; this morning will you not wake?"
– Kabir
---
There is a candle in your heart,
ready to be kindled.
There is a void in your soul,
ready to be filled.
You feel it, don't you?
You feel the separation
from the Beloved.
Invite Him to fill you up,
embrace the fire.
Remind those who tell you otherwise that
Love
comes to you of its own accord,
and the yearning for it
cannot be learned in any school.
– Rumi'
Translated by Sharam Shiva
Related